Got a question?
Try asking our: Knowledge Base

Helpful information about our most Frequently Asked Questions (FAQs)
FAQs
Compliance
How we can help
Keeping agency registration simple

We only provide fully compliant Doctors, Nurses, and Allied Health Professionals to our NHS partners.

It can be quite complicated and time consuming for you to meet the required standards set by the Government.

To help with this, our dedicated Compliance Team is on hand to support and guide you, every step of the way




What we need to get you compliant

We need identity documents, right to work employment history & references, work health assessments, professional registration and qualification documents and any criminal records.

Don't worry though, we're here to help you at every stage. Your Recruitment Consultant will guide you through the process, advising what's due and by when.

You can also access this information through your ID Medical online profile, which allows you to see your exact status.

Our road team

To help you become compliant with us even faster, we have a 'Road Team', a specialist team of friendly professionals who travel the UK meeting Doctors, Nurses and Allied Health Professionals in convenient and safe locations.

They'll take you through the compliance process, providing advice and services such as sighting BCG scars, taking bloods test and scanning documents.

It's a one-stop-shop to fast track your compliance.
Email us
Revalidation support
Nursing Revalidation
Keeping your NMC Revalidation up to date so you can keep doing the amazing work you do.
Find out more
Doctors Revalidation
Keeping your GMC Revalidation up to date so you can keep doing the amazing work you do.
Find out more
Supporting you through Revalidation
Dedicated Support Team, on hand to help
Revalidation is an important way for the GMC and NMC to ensure that Doctors, Nurses, and Midwives are up to date and practicing safely.
ID Medical's dedicated Revalidation Support Team is here to help you through the process, regardless of your profession.
Help when you need it
Find out more about how ID Medical's Revalidation Support Team can help you through your Revalidation by clicking on the appropriate link above.
Contact Us
Helpful information on getting paid
Getting paid your way
Helpful hints to weigh up your options
ID Medical Group offers several payment options so you can be paid in a way that suits your particular needs.

We run a daily payroll service, which means you can be paid within as little as two-working days (excluding Direct Engagement models).

What do you need to do?

When you register with us, simply choose the payment method that works best for you and provide us with a few extra details, then we'll handle the rest.

PAYE and Direct Engagment Payments

PAYE means that you'll be engaged and paid directly by ID Medical Group. Simply send us your timesheets and we'll do everything else. Working for us on PAYE comes with the added bonus that timesheets submitted before 2:30pm will be paid within two-working days!
Find out more
Different ways to get paid
The pros and cons
If you're interested in a different way of getting paid, we also work with umbrella companies and where permitted, with workers providing their services via their own limited companies.

As a result of recent changes to IR35 legislation, there are now significant curbs on being paid via a limited company. Please keep reading for further information.

It's important to be aware that some NHS trusts pay Doctors and AHPs via a Direct Engagement model. In these cases, you may need to submit a trust-specific timesheet and you'll be paid directly via the trust rather than by ID Medical Group. Your Recruitment Consultant will be able to give you additional information about which trusts work through Direct Engagement.


IR35 Legislation

As of 6th April 2021, new IR35 legislation means that the vast majority of temporary staff working via their own limited companies will have their income taxed at source.

In this situation, there is considerable financial risk for both agencies and workers that the incorrect tax treatment of income could result in a large, unexpected tax bill. At ID Medical Group, your welfare is important to us and as such, we strongly encourage you to be fully aware of the implications of IR35 and other tax regulations. For further information, our IR35 Legislation web page will provide you with everything you need to know!

Please note, in order to comply with HMRC rules including IR35, not all payment methods will be available for all roles.



IR35 FAQs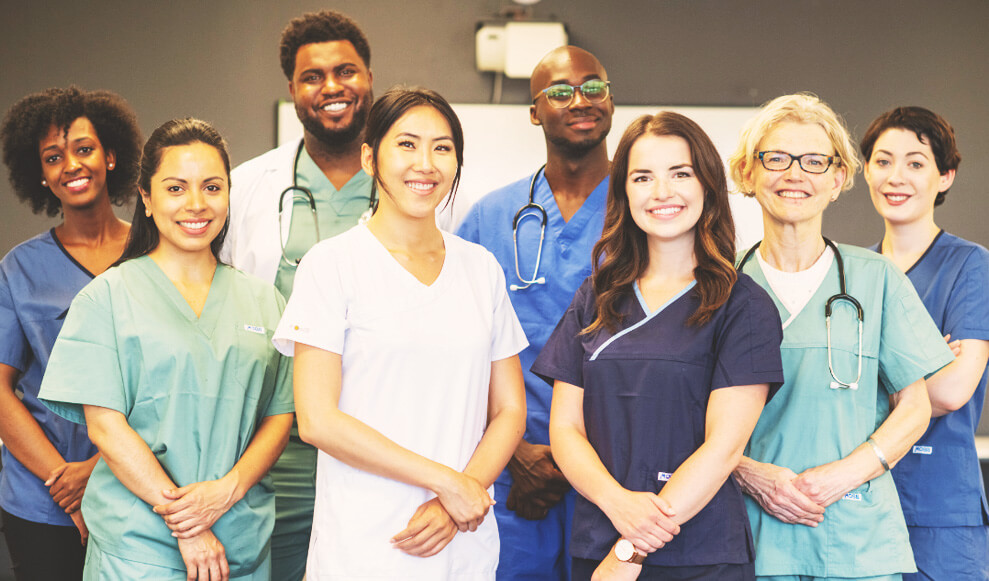 Refer and earn
With ID Medical you can earn up to £500 for referring a colleague.

And there's no limit to how many referrals you can provide… so there's no limit to how much you can earn!

We are always looking for more dedicated healthcare professionals like you to fill the 100,000+ vacancies we have every month.

So, if you have friends or family who are Healthcare Professionals, or work with colleagues who are interested in locum work, then why not introduce them to the UK's leading healthcare recruitment agency – ID Medical – and earn yourself some extra cash while you're at it!

Be sure to ask the person you are referring to enter your name when they register.
Testimonials
Ashel Pinto

International Nurse | The Dudley Group NHS Foundation Trust

Thank you for guidance, inspiration, encouragement and being there for me. You are the reason I am where I am today! Most importantly for being a part of my journey… THE RIGHT MENTORS AT RIGHT TIME CAN BE YOUR SAVIOR"

Hemaletha Hari

International Nurse | The Dudley Group NHS Foundation Trust

Thank you for your support during the interview process! It was very helpful as it lead to the success of my job! I hope to have your valuable support in the future also…

Jinu Pandisseril

Jinu Pandisseril | The Dudley Group NHS Foundation Trust

Thank you ID Medical for your great support and guidance to achieve my goal.

Poojitha Kaveti

International Nurse | The Dudley Group NHS Foundation Trust:

Thanks to ID Medical for your support and guidance to reach my goal. I would recommend ID Medical to all the Healthcare Professionals who wish to work in the UK. They are efficient, quick in processing, trusted agency and highly professional.

Dr Jide Awobamise(GP)

Dr Jide Awobamise(GP)

ID Medical are a resourceful and responsive recruitment company. My Recruitment Consultant has been engaging and on the ball. He permanently seems polite and ready to help – a huge asset.

Ada Anioke (ANP)

Ada Anioke (ANP)

It has been amazing working with ID Medical, very supportive team especially my Recruitment Consultant, who has been very efficient, supportive, always ready to listen, always in touch and always ready to listen

Dr Olu Adeniran (GP)

Dr Olu Adeniran (GP)

ID Medical is one of the few recruitment agencies that offer premium personalised services. My Recruitment Consultant is always very supportive all the way. Always available to provide support even at odd hours of the day. He sends me my personalised rota with regular updates. Payments are on time as well

Dr Samuel Tiareh (GP)

Dr Samuel Tiareh (GP)

ID Medical got me the locum work I was looking for, quickly and efficiently, the registration process was smooth. My Recruitment Consultant is always available and deals with any issues which arise quickly and efficiently. Very helpful and polite.

Dr Saad Ali (GP)

Dr Saad Ali (GP)

Good experience with ID Medical. They are responsive to messages. Special mention to Abhishekh and manager Anima for their help in getting the shifts booked according to my availability and being on hand for any troubleshooting queries. Would recommend.

Samuel Godinho Monteiro

International Nurse | Samuel Godinho Monteiro

I want to recommend and thank the company ID Medical for facilitating my recruitment process and moving to a new country. I will certainly recommend it to my friends and colleagues.
Job search title
Due to the number of vacancies we handle and the speed at which we fill them, we cannot advertise all our roles online, so this is just a sample.Please do register your interest with us today as we would love to help you find
your next role.
Register now