Why we exist…
Our health is the most treasured thing we have.

ID Medical is dedicated to helping ensure we all have access to the right healthcare when, where and how we need it!

Compliance
How we can help
Keeping agency registration simple

We only provide fully compliant Doctors, Nurses, and Allied Health Professionals to our NHS partners.

It can be quite complicated and time consuming for you to meet the required standards set by the Government.

To help with this, our dedicated Compliance Team is on hand to support and guide you, every step of the way




What we need to get you compliant

We need identity documents, right to work employment history & references, work health assessments, professional registration and qualification documents and any criminal records.

Don't worry though, we're here to help you at every stage. Your Recruitment Consultant will guide you through the process, advising what's due and by when.

You can also access this information through your ID Medical online profile, which allows you to see your exact status.

Our road team

To help you become compliant with us even faster, we have a 'Road Team', a specialist team of friendly professionals who travel the UK meeting Doctors, Nurses and Allied Health Professionals in convenient and safe locations.

They'll take you through the compliance process, providing advice and services such as sighting BCG scars, taking bloods test and scanning documents.

It's a one-stop-shop to fast track your compliance.
Email us
Revalidation support
Nursing Revalidation
Keeping your NMC Revalidation up to date so you can keep doing the amazing work you do.
Find out more
Doctors Revalidation
Keeping your GMC Revalidation up to date so you can keep doing the amazing work you do.
Find out more
Supporting you through Revalidation
Dedicated Support Team, on hand to help
Revalidation is an important way for the GMC and NMC to ensure that Doctors, Nurses, and Midwives are up to date and practicing safely.
ID Medical's dedicated Revalidation Support Team is here to help you through the process, regardless of your profession.
Help when you need it
Find out more about how ID Medical's Revalidation Support Team can help you through your Revalidation by clicking on the appropriate link above.
Contact Us
Helpful information on getting paid
Getting paid your way
Helpful hints to weigh up your options
ID Medical Group offers several payment options so you can be paid in a way that suits your particular needs.

We run a daily payroll service, which means you can be paid within as little as two-working days (excluding Direct Engagement models).

What do you need to do?

When you register with us, simply choose the payment method that works best for you and provide us with a few extra details, then we'll handle the rest.

PAYE and Direct Engagment Payments

PAYE means that you'll be engaged and paid directly by ID Medical Group. Simply send us your timesheets and we'll do everything else. Working for us on PAYE comes with the added bonus that timesheets submitted before 2:30pm will be paid within two-working days!
Find out more
Different ways to get paid
The pros and cons
If you're interested in a different way of getting paid, we also work with umbrella companies and where permitted, with workers providing their services via their own limited companies.

As a result of recent changes to IR35 legislation, there are now significant curbs on being paid via a limited company. Please keep reading for further information.

It's important to be aware that some NHS trusts pay Doctors and AHPs via a Direct Engagement model. In these cases, you may need to submit a trust-specific timesheet and you'll be paid directly via the trust rather than by ID Medical Group. Your Recruitment Consultant will be able to give you additional information about which trusts work through Direct Engagement.


IR35 Legislation

As of 6th April 2021, new IR35 legislation means that the vast majority of temporary staff working via their own limited companies will have their income taxed at source.

In this situation, there is considerable financial risk for both agencies and workers that the incorrect tax treatment of income could result in a large, unexpected tax bill. At ID Medical Group, your welfare is important to us and as such, we strongly encourage you to be fully aware of the implications of IR35 and other tax regulations. For further information, our IR35 Legislation web page will provide you with everything you need to know!

Please note, in order to comply with HMRC rules including IR35, not all payment methods will be available for all roles.



IR35 FAQs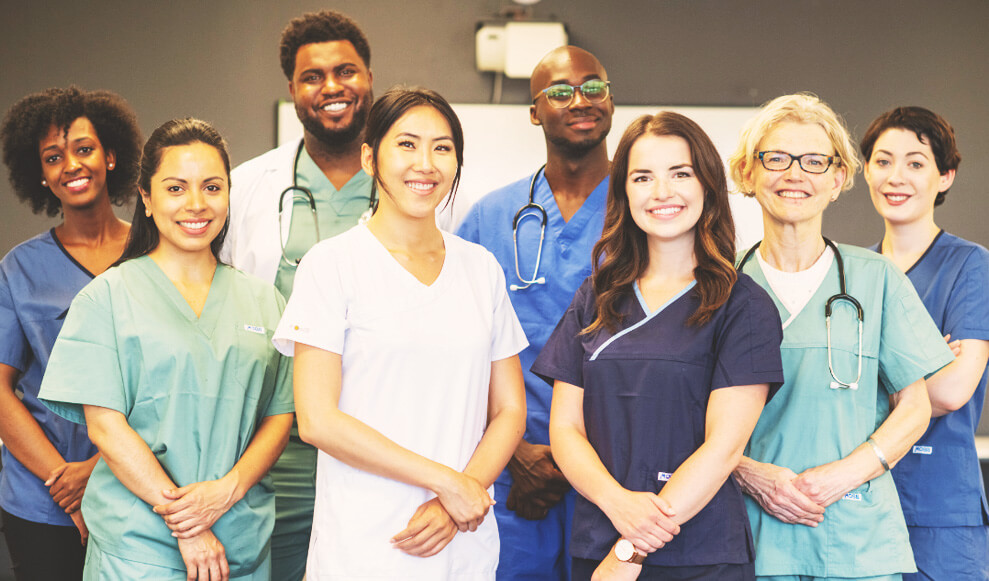 Refer and earn
With ID Medical you can earn up to £500 for referring a colleague.

And there's no limit to how many referrals you can provide… so there's no limit to how much you can earn!

We are always looking for more dedicated healthcare professionals like you to fill the 100,000+ vacancies we have every month.

So, if you have friends or family who are Healthcare Professionals, or work with colleagues who are interested in locum work, then why not introduce them to the UK's leading healthcare recruitment agency – ID Medical – and earn yourself some extra cash while you're at it!

Be sure to ask the person you are referring to enter your name when they register.
Testimonials
Very courteous professionals and supportive. Just the right balance of familiarity, reassurance and focus on the role. I felt very reassured in competent hands throughout, and the team were wonderful, and I cannot rate the nurses highly enough

Everyone was very kind, considerate and professional – All introduced themselves by name. All very friendly whilst still professional. During the examination, I was asked several times if I was ok. Caring and reassuring.

Patient at East Lancashire

I was nervous when I came, but all the staff were brilliant, accommodating and friendly. A very smooth journey from reception to excellent care by the medical team – Ten out of ten!

If you're looking for an organised programme with structure to help you study and pass the NCLEX, look no further! This program is set up in a way that helps you stay organised and on track with studying. I have a very busy schedule, and Shelly worked with me to create a personalised study schedule that worked with my life. I felt supported by Shelly, she answered any questions I had and was encouraging the whole way through. Thank you so much for everything! I passed the NCLEX the first time because of this program!"

I am so glad I found out about this program when I did; Shelly tailors your studying to your particular strengths and weaknesses, and guides you through the information that you need to be successful with the exam."

I would most definitely recommend the NCLEX Education course for both students finishing their Nursing programmes now, and current RN's working, and interested in, writing the NCLEX exam.

Dr Semiu A Babayode

Locum Consultant Psychiatrist, LCFT

I know I have only been working for ID-Medical and known you for only two and half years but I want to use this opportunity to thank you for your steadfast and unprecedented commitment to my course. It's a fact many would not admit to that the agency/contractor relationship is full of suspicion but it's consoling for me personally to find someone I can trust like you. You have inspired me; helped me identify and tapped into my strengths which have helped progress my career within the short period of time I have known you. You have already formed part of my seamless memories which tell my story today, will do tomorrow and in years to come. Heart does not forget; I will forever be grateful to you for making a difference in my humble life as a professional.

It has been pleasure to work continually with ID medical for last three years and I would like to appreciate your hard work, dedication, very friendly and personal service. I would like to mention that I never worked with any other agency since I started working with ID medical as you were always there to have a very personal and efficient way of dealing with the job requirements. I would like to mention that you have been at best possible standards to find the job which suited my personal circumstances and specialty requirements and which have helped me a lot during these years. I wish you good luck for your future career and hope that you will make a good progress in your career.

I have worked with Amie in ID medical as a locum doctor for more than 2 years. Amie is lovely and very supportive. I have never been disappointed working with ID medical. She has particularly been very helpful with any queries that I have. I would highly recommend working with Amie.

I had the opportunity to work with ID Medical this year. Even with the reduction of services in my specialty they were able to find an assignment according to my preference and in the area I wanted. Everything went smoothly every step of the way. There were no issues whatsoever. I was paid on time and I felt that ID Medical is looking after my best interest. I had a very fast reply to any query. Bret, my agency Consultant was fantastic and I was always confident that things get done. Edita was very supportive and helpful with my appraisal. I have nothing but praise for this agency and if you're thinking of doing locum work I can't recommend them enough.
Job search title
Due to the number of vacancies we handle and the speed at which we fill them, we cannot advertise all our roles online, so this is just a sample.Please do register your interest with us today as we would love to help you find
your next role.
Register now