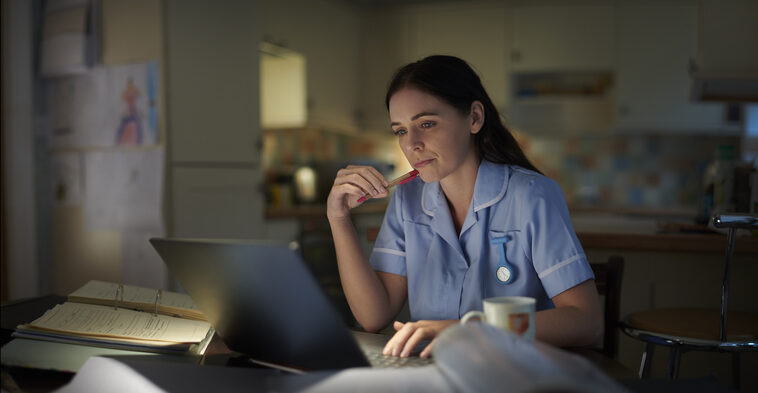 10 Steps to NMC Registration
May 7, 2020.
To work in the UK as a nurse or midwife, you must be registered with the Nursing and Midwifery Council (NMC). The NMC registration maintains a register for all nurses, midwives and specialist community public health nurses and nursing associates eligible to practice within the UK.
The NMC sets and reviews standards for their education, training, conduct and performance.
In this blog post, we'll share with you the ten steps of how an international nurse or midwife can successfully obtain NMC registration and work within the UK.
Step 1: Your Qualification
For nursing, the NMC requires your qualification to be equivalent to a UK Level 1 nurse. In the UK, a Level 1 nurse is a nurse who has completed a three-year programme of education leading to a nursing qualification/academic qualification (a degree or diploma).
For midwifery, you will need to hold a qualification capable of leading to registration as a midwife in the country of which you have trained.
Step 2: English Language Requirements
The next step in your NMC registration is to successfully evidence that you can communicate effectively in English. Communication is defined as speaking, reading, listening and writing, and you must demonstrate your skills in all areas.
The NMC will accept three pieces of evidence:
A pass in an English language test accepted by the NMC
A pre-registration nurse, midwife or nursing associate qualification which was taught and examined in English
Recent practice of at least one year in an English speaking country
2.1 English Language Tests
International English Language Test System (IELTS)
You must achieve an overall score of 7, at least 6.5 in the writing section and at least 7 in reading, listening and the speaking section.
The NMC allow you to combine your IELTS test scores across two test sittings if:
You sit the tests within six months of each other
You are tested in all four sections at the same time
All scores in both sittings are above 6.5 and
You achieve at least 6.5 in the writing section and at least 7 in the reading, listening and speaking sections in either of the two test sittings
2.2 Occupational English Test (OET)
NMC registration will accept an OET examination certificate if you have achieved:
At least a grade C+ in the writing section
At least a grade B in the reading, listening and speaking sections
The NMC also allow you to combine your OET test scores, if:
You sit the tests within six months of each other
You are tested in all four sections at the same time
All grades in both sittings are above grade C+ and
You achieve at least a grade C+ in the writing section and at least a grade B in the reading, listening speaking sections in either of the two test sittings
If you would like support with your English language training, we have partnered with Swoosh English and Specialist Language Courses (SLC) to support you with your learning. The course includes a benchmark test to allow you to assess your competency levels and select the right programme for yourself.
Step 3: Self-Eligibility
The next stage of the process is to complete an online self-assessment form, which confirms whether you're eligible to apply for NMC Registration. As part of this, you'll need to confirm that you meet the NMC's health, good character and English Language requirements.
You'll also need to confirm that you understand you will be asked to provide supporting documents to evidence this later in the application process.
Step 4: Competency Test
Once the NMC have confirmed that you are eligible, you'll be asked to sit the CBT (Computed-Based Test). This online assessment is to test your theoretical practice-based knowledge. The test format is a multiple-choice test and it can be taken in test centres all around the world.
The NMC permits three attempts at the CBT as part of one application, with a minimum of ten days in between each sitting. You will need to pass your CBT test within six months of completing your eligibility.
The NMC test providers are named Pearson VUE, you will need to contact them directly to book and pay for your test.
The current cost of the test (May 2020) is £83.
Step 5: Supporting Documents
After you've passed your CBT exam, you'll be asked to provide your supporting documents for your application. You'll need to provide the NMC with the following:
Your current valid passport
Your birth certificate
Your formal qualification certificates from each country where you have practised and/or been registered
A full police clearance certificate for every overseas country you have lived in or visited for more than three-months since the age of 18
Registration verification from each country where you practiced or where you have previously registered
A completed form to accompany transcript of training (FATT) form and full transcript of your training
A good health declaration from your General Practitioner or the Occupational Health Department at your workplace
Please note, all of the relevant forms required are available to download from your online portal once you reach the assessment stage, but not before.
Browse our latest Nursing Jobs!
We work with 95% of NHS trusts, meaning we have the widest variety of temporary and permanent nursing jobs in the UK! Just hit the link below to browse the latest nursing vacancies.
Step 6: Submit your evidence
Once the NMC have received all of the necessary documents, your application will be assessed by a member of the International Registrations Team. They usually aim to assess applications within 60 calendar days of receiving all of your supporting evidence.
Step 7: Eligibility to apply for Healthcare Assistant Posts
After you've completed the above steps, you'll be eligible to apply for Band 5 Registered nurse role where you will initially have the status of pre-registered nurses and work as a Band 3 or 4 healthcare assistant until you have completed your OSCE.
Once you have been offered a UK opportunity, you can apply for your Tier 2 visa, start your UK post and then, you must pass your OSCE within 3 months of arrival.
If you're interested in applying for opportunities at this stage, please do email your CV to us at marketing@id-medical.com.
Step 8: OSCE
Once you arrive in the UK, you'll have three-months to pass your OSCE exam. The exam will assess your clinical knowledge and can only be completed in the UK. The OSCE simulates a clinical environment and patient scenarios which all registered nurses and midwives are likely to encounter when they assess, plan, implement and evaluate care.
The OSCE contains nursing or midwifery scenarios along with 6x separate skill stations. Each separate clinical examination is known as a 'station' and you will circulate through the stations within a set timeframe. You must pass all 6 x stations to become a registered nurse and in the event you fail any of these, then you will be required to re-take and pass any failed stations before you can work as a registered nurse. Most NHS Trusts have a structured OSCE training programme that is delivered on arrival to prepare you for the exam and will only schedule the exam once they are confident you are ready to pass.
NMC registration has also implemented a range of changes to the CBT and OSCE test in order to improve candidate support. You can read through the changes here.
Step 9: ID Check
A face-to-face ID Check will then take place at the OSCE location on the same day as your OSCE exam. You'll be required to bring all of the original documents that you uploaded as part of your application. This includes your passport, registration certificates, police clearances and UK DBS.
You'll find a finalised list of documentation on the back of your OSCE letter, which is downloadable from your portal.
Step 10: Work as a Nurse in the UK
After all of your hard work and determination, you'll now be ready to work as a Band 6 or 7 Nurse or Midwife, depending on your experience.
Please note, you will still need to apply for a higher banded Nursing opportunity. We can of course, help you with this.
Sign up with ID Medical and Work As a Nurse here in the UK!
If you're a nurse or midwife who has used ID Medical's support in securing an NHS post, you'll receive the following benefits:
IELTS/OET exam fees covered
Tier 2 visa application and Immigration Health Surcharge fees covered
Free flight to the UK and transfer from the airport
CBT exam fee paid
Free accommodation on arrival
OSCE exam costs paid
Full OSCE training programme
Free mobile SIM card
Increased earning potential through locum work via ID Medical – as much as £2,000 extra per month
If you do decide that you would like our support in obtaining an NHS or private healthcare job, please do register your CV with us at marketing@id-medical.com. Alternatively, you can also sign up with us by hitting the link below.

References
Nmc.org.uk. 2020. Accepted English Language Tests. [online] Available at: <https://www.nmc.org.uk/registration/joining-the-register/english-language-requirements/accepted-tests/> [Accessed 5 May 2020].
Nmc.org.uk. 2020. [online] Available at: <https://www.nmc.org.uk/globalassets/sitedocuments/registration/registering-nurse-or-midwife-outside-eu.pdf> [Accessed 5 May 2020].