In the Spotlight… Clinical Services">
In the Spotlight… Clinical Services
Jul 5, 2022.
Weekend Endoscopy Service at East Sussex Healthcare NHS Trust
ID Medical Clinical Services (IDMCS) play a vital role in helping NHS trusts effectively manage their patients' healthcare pathways and improve patient outcomes. As a CQC registered provider, we are proud of our ever-expanding Clinical Services division, which works in partnership with trusts to offer a collaborative and seamless extension of their own services. Over the coming months, we'll be sharing how we're continuing to mobilise new services across the country – and the difference this support makes to waiting time initiatives in multiple disciplines.
A great working partnership
We delivered a fantastic, competitive and unique tender for East Sussex Healthcare NHS Trust in that it offers an enhanced level of service that goes beyond a traditional level of insourcing. Our collaboration with East Sussex covers an entire spectrum of insourcing for Gastroenterology; and Colorectal Surgery from diagnostics and continuous care, to demonstrating value for money whilst delivering the highest standard of care to patients.
Fully insourced service
Our new working partnership with East Sussex began back in August 2021. They required an experienced provider to deliver 10 diagnostic endoscopy lists every weekend for an initial period of 32 weeks. We were able to call upon our extensive database of specialist Endoscopists and Nurses to source and deploy local teams to deliver the service. Our operations team and Clinical lead worked closely with East Sussex management over the coming weeks to ensure our implementation for the service was seamless and mobilised without delay.
A service to be proud of!
Thanks to our wonderful teams, we were able to run our service on the required weekends and delivered 2280 JAG points for Eastbourne District Hospital's endoscopy department. Testament to the success of the service, a business case was submitted to allow IDMCS to return for a further three months to continue our partnership with them.
98% positive feedback
The key for measuring success is the experience of our patients and their feedback – we're thrilled to share that our patient feedback for ID Medical Clinical Services was 98% positive!
Patient feedback also included testimonials such as these:
'Please send my thanks to Dr Butt and his team in the Endoscopy Unit. During my admission this morning every single person I met was so kind, caring and skilled at putting me at ease. Making an unpleasant procedure much more bearable. Thank you.'
Endoscopy patient, Eastbourne District General Hospital
'Professionalism is a given but should never be taken for granted. Every member of staff I met today was friendly, caring and highly appreciated. Thank you so much.'
Endoscopy patient, Eastbourne District General Hospital
'Excellent service, everything explained. I was well looked after, my extra needs were listened to and addressed, which made this a much more comfortable experience.'
Endoscopy patient, Eastbourne District General Hospital 
Endoscopy patient, Eastbourne District General Hospital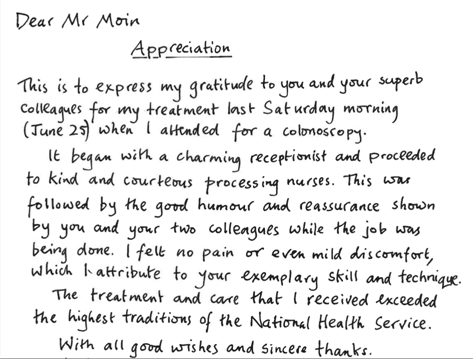 If you're an NHS trust keen to know more about ID Medical Clinical Services and how we can help support your organisation reduce patient wait times and improve patient outcomes, contact us today at: clinicalservices@id-medical.com or call us: 01908 525 756. We would also love to hear from you if you're a Healthcare Professional keen to work within a Clinical Services team!
We look forward to hearing from you.