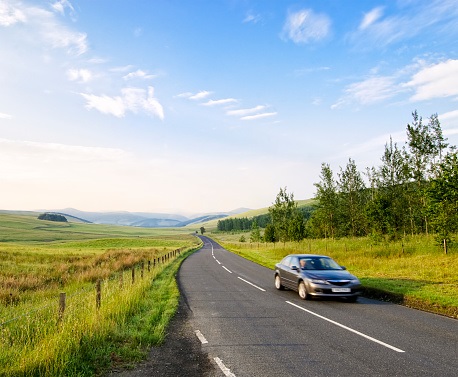 ID Medical's Guide to Driving in the UK
Oct 5, 2022.
If you're an International Healthcare Professional who wants to know more about driving in the UK, our handy blog is packed with useful information, including what you need to know about registering to drive here and useful information and tips for UK driving.
Driving on the left
One of the biggest differences with UK driving is that we drive on the left, which is something only 34% of countries worldwide do! If you're used to driving on the right, this might take some getting used to as left-hand driving also means the steering wheel is on the right side of the car.
Registering to drive
Healthcare Professionals coming over to live in the UK can drive here under the following conditions:
– If you're a European Economic Areas passport holder, you can drive with your issued licence without the need to take a British driving test
– If your licence is from a country outside of the European Economic Area, you are able to drive here with your full, valid licence for up to 12 months after you become a UK resident as long as you are from a 'designated country', which are:
Andorra
Australia
Barbados
British Virgin Islands
Canada
Cayman Islands
Falkland Islands
Faroe Islands
Gibraltar
Hong Kong
Japan
Monaco
New Zealand
Singapore
South Africa
South Korea
Taiwan
Ukraine
United Arab Emirates
Zimbabwe
It is important to note that after the 12 month period mentioned, you will then need to apply for, and pass a British driving test if you want to drive in the UK.
Please click here to find out about:
 – Exchanging a foreign driving licence
– Applying for a provisional driving licence
The Driver and Vehicle Licensing Agency (DVLA), part of the UK Department of Transport, is responsible for maintaining a database of registered drivers in Great Britain. Anyone aged 17 or above who has passed their driving test can legally drive in the UK.
UK Driving Licences
UK Driving licences are issued in a 'credit card' style format and will have:
– a photograph of the driver
– driver's full name, address, and date of birth
– issue date and expiry date for the license (they remain valid for 10 years)
– unique license number, consisting of the first few letters of the driver surname plus a configuration of letters and numbers
– a small picture of the UK flag
It is important to note that there are severe penalties for driving without a licence in the UK.
Registering and maintaining your car
If you have, and are driving a vehicle in the UK, it will need to be registered with the DVLA. If you are buying a new car, you will find that most dealers will register the car for you, but if you buy a used car, you will have to arrange the registration yourself or arrange with the seller to register the vehicle to you.
This means that you will need to complete one of the following forms:
– Form V55/4 if your vehicle is new
– Form V55/5 if your vehicle is used
You will then need to send your completed form to the DVLA along with:
– proof of ID (driving license, passport, birth certificate)
– proof of address
– registration fee (currently £55)
– any vehicle tax owed (or proof of payment)
– a certificate/declaration of newness for new vehicles
– a valid MOT certificate for vehicles over three years old
Once you have sent all the valid paperwork, you should receive your V5C registration certificate (which is a vehicle registration document that registers your vehicle with the DVLA) within 6 weeks.
Other costs for your car
Other costs to factor into owning a car include:
– Ensuring you have a valid MOT certificate (cars older than 3 years old need to be tested manually)
– Car insurance – which is compulsory for driving in the UK (shop around on price comparison sites such as Money Supermarket or Compare The Market for competitively priced deals). It is important to note that there are severe penalties for driving without insurance in the UK
– Breakdown cover, which will give you roadside assistance if you break down. Some of the most popular are the AA, the RAC and Green Flag
Useful info and tips for UK driving
Speed limits for cars and motorbikes:
– In built-up areas: 30 mph/48 km/h
– On single carriageways: 60 mph/96 km/h
– On dual carriageways: and motorways 70 mph/112 km/h
Penalties for speeding:
– Minimum is £100 and 3 points on your licence
– Find out more about speeding penalties on the gov.uk website
Mobile phones and driving
Using a mobile phone whilst driving (in a hand-held operation) is against the law and carries penalties such as fixed fines, points on your licence or even the loss of your licence. Only 'hands-free' mobile phone use is permitted, which means that your phone should be connected up to your car and you are not using the phone in your hands. It is important to set your phone up and connect it to your car before you start driving.
Where to buy a car in the UK
If you're looking to buy a car once you have settled in, there's lots of places where you can look, including:
– Car dealerships
– Classified sites such as Autotrader for used cars
– Car supermarkets such as CarSupermarket and CarShop
We hope that our blog on Driving in the UK has been useful and don't forget that, at ID Medical, we understand that moving to a new country and starting a new job and way of life can be daunting, which is why we have a dedicated International Medical Recruitment Division to support you all the way! For more information, please get in touch. Our specialist Recruitment Consultants would love to help you find your perfect role, with dedicated 1-2-1 support and guidance at every step of the way!