FY3 Doctors: Advice and Insight from Recruitment Consultants
Jul 31, 2023.
If you're considering an FY3 year, many exciting opportunities await you in the world of locum work!
As a Recruitment Consultant, we understand the unique challenges and aspirations of doctors. We're able to advise on everything from registration and securing work, to compliance, contracts, and more.
Are you seeking a short-term adventure or to explore various specialties before committing to your long-term career path? Locum work offers the perfect blend of flexibility and exposure.
Read on to find out everything you need to know from answers to some commonly asked questions.
1. How long does it take to get registered with ID Medical?
Our dedicated team will work with you to get your registration and on-boarding through as quickly as possible. If we work together to gather all the compliance information we need from you, it can be as little as 48 hours. The only element that will slow us down is missing information. As soon as you register your interest online, you will be sent details of everything we need to get you out working in your FY3 year.
2. After I am fully registered, how quickly can you secure me work?
Once you're fully compliant and we know your availability, we can secure you work almost immediately. We just need to wait for a job that suits your needs and to have your CV approved by the hiring consultant. A lot of locum work is "last minute", so it's likely that if a job suits you, you could be starting within a week.
3. What compliance documents do I need?
We know that compliance can be a handful, so we've streamlined our registration process as much as possible. It covers areas such as your CV, references, DBS, and serology reports.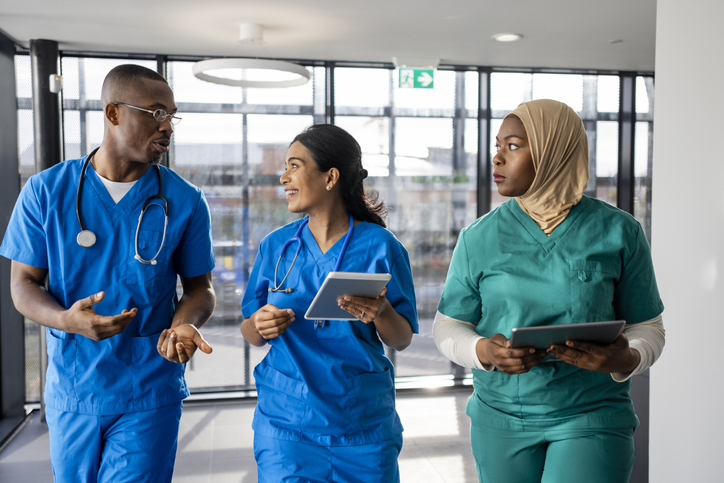 4. What type of contracts can I book?
This is down to you. We have contracts that last from a few weeks to several months at a time. This can really help you settle in and feel part of a team when you're doing locum work. We also support the NHS with ad hoc shift coverage as and where they need our support.
5. Can I choose my own specialty and location of work for FY3?
You absolutely can. We have specialist recruiters that focus on finding rotation positions for you. If you're looking for a new specialty, or to move to a new location, we've got you covered.
6. What role will my Recruitment Consultant have in my FY3 year?
An ID Medical Recruitment Consultant's primary role is to secure your ideal job and get you booked into hospitals. But their role in your working life will be more than that! It's really important that the doctors we work alongside are happy at work and outside. So, we will be keeping in contact with you, checking in, making sure things are going well. And if they're not, we will work extremely hard to get everything resolved as soon as possible.
That being said, each doctor enjoys a different level of involvement, so we will always be guided by your needs and expectations.
7. When will I get paid?
This depends on the hospital you're booked in with. If ID Medical are paying you directly, then you have the luxury of daily pay runs, meaning we'll start the payment process the day you submit your timesheet.
Many hospitals have what is known as a "direct engagement payment system". This means that they'll be paying you directly for your services. These models tend to pay weekly in arrears, but your Recruitment Consultant will explain exactly how the hospital you're working with pays.
8. Will I need to do any training?
This depends on if you have up to date training already, and the certificates to go alongside it. As part of your registration, you'll have the option to submit your most recent certificates, and we can let you know if there'll be anything additional you'll need to do.

9. What if I only want to work for a few months and then take some time off for myself?
The flexibility of locum work! The great news is that as a locum doctor, you are in control of your own schedule – when you work and how long you work for! Our Recruitment Consultants will help you create and design your own schedule! So, if you would like to work for a few months and then take a well-deserved break to go backpacking around South East Asia, we've got you covered! And we'll look forward to hearing about the stories on your return.
10. What do people typically do in their FY3 year?
The magic of an FY3 year means, that it's completely designed around you and your needs! We understand the pressure that comes to committing to a specific specialty for the next eight years, so, it's important to take a breath and give yourself time to properly consider what you want to do for your specialist training years.
An FY3 year typically consists of short-term contracts, an opportunity to earn money and exposure to new specialties, all whilst having the freedom to choose when and where you work, and for how long.
Some doctors also view this year as the year of adventure! They work for a few months and then high-tail out of the UK to go and explore land beyond the North Sea!
11. What if I don't enjoy the specialty I am booked in for – can I change it?
We know that trying new specialties will sometimes lead to you finding one you want to avoid – and that's absolutely fine!
With the flexibility that comes with locum work, you're never "locked in". There are no three-month notice periods like you might be used to; as long as we give sufficient time for the department to find cover, you can move to a new position within a matter of weeks.
If you're about to embark on this very exciting journey – best of luck from the ID Medical Team.
Register with ID Medical today
Your journey into an FY3 year starts here…
We'll give you all the support and guidance you need, every step of the way.