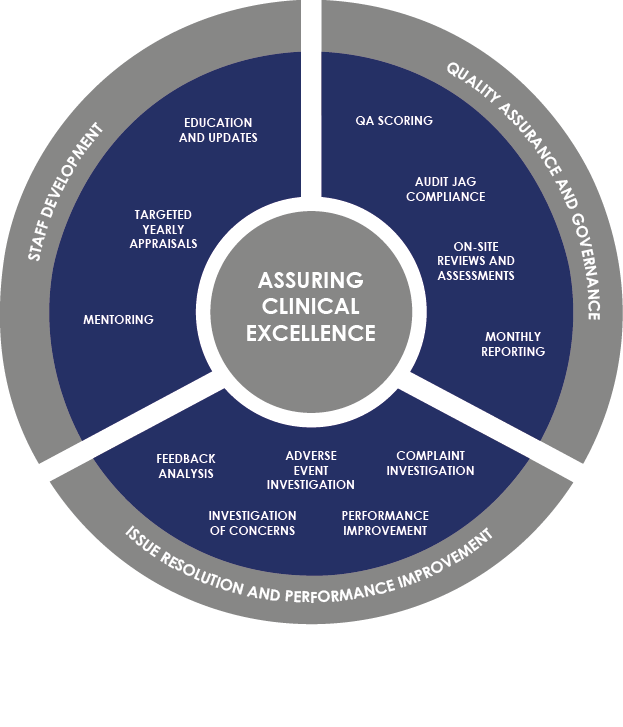 Assured clinical excellence
IDM Clinical Services leverages its expertise in compliance, governance, quality assurance and project co-ordination, acting as a conduit for service excellence. We ensure the service is provided in line with national standards, for example JAG for endoscopy, and your local requirements.

Our Quality Assurance team, led by our Medical Director / Responsible Officer, and comprising of Senior Consultants, ensures our services are safe and exceed all KPIs (local and national), supporting improved discharge rates.

We will report on patient numbers, DNAs, issues and complications and any trends, as well as undertaking regular audits and Quality Assurance assessments, with anomalies investigated and a root cause analysis undertaken.

Governance and Quality Assurance (QA) function
Industry leading compliance management infrastructure
All staff vetted to six NHS Employment Standards
Patient satisfaction surveys to ensure premier performance
Responsible Officer (RO) investigation and response to any complaints, adverse incidents and concerns
Weekly meetings to review performance and timely actions achieved
Regular audits of clinician performance through remote monitoring and on-site observation
Audit report following each site visit, rating the service and identifying
Our strong clinical governance arrangements assure a clinically excellent service, delivering good patient outcomes and patient safety, supporting cost-effective achievement of performance targets.
PATIENT CONFIDENTIALITY AND DATA PROTECTION
The security of patient information and compliance with patient confidentiality, and data protection legislation, is paramount in everything IDM Clinical Services undertakes on behalf of clients.

Our Governance Board meets monthly to review all reports, developments and act upon complaints. Minutes are shared with stakeholders and everything is transparent with the client.