THE LAND OF THE FREE
Have you ever dreamed of moving to the States to experience the land of opportunity? Well, ID Medical's International team can make this a reality for you. We're working with acute hospitals and facilities on the East and West coasts of America to place nurses into permanent jobs.
Nurses who have at least two years' experience working as a RN in an acute hospital with a minimum of 100 beds within the last 12 months (and currently working) will match the minimum requirements. If that's you, then keep reading!
WHERE YOU COULD BE WORKING
The available opportunities for nurses change regularly, though they are generally across most American states. Currently, we have vacancies in Arizona, Oregon and Texas.
The process is quite extensive and could take as long as a year to get a Green Card. As such, the placements available at that time may differ. You should be prepared to relocate to any number of locations across the USA.
THE PROCESS
We'd love to tell you this is a quick process and we'll get you out working in the USA in no time, but unfortunately that isn't the case. The process is quite involved, lengthy and will take patience – particularly with the immigration stage while a green card is issued – so we are looking for nurses who are committed to complete the process and are determined to make this life changing event happen.
If you have the relevant skills, and are interested in this amazing and rare opportunity, register using the form at the bottom of this page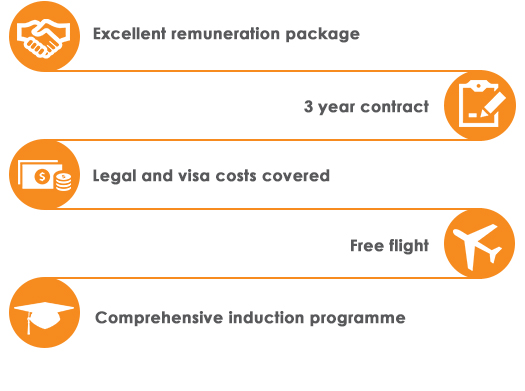 SUPPORT FROM ID MEDICAL
Even after you have successfully landed an exciting role in the USA, ID Medical's support doesn't end there. Our excellent renumeration package will ensure the transition is smooth sailing. Along with your three-year contract, we will cover the cost of your visa, legal fees and flight, so you can concentrate on settling in your new American home while delivering the best healthcare to your new patients.
We also provide a comprehensive induction programme to help you integrate with the working and social aspects of American laws and way of life. We're with you every step of the way.
REGISTER YOUR INTEREST
To begin the process to move to the USA, please complete this form. The process could take a year to complete in full. Only nurses who match the strict criteria outlined above and who are fully committed to completing the recruitment and immigration processes are encouraged to register.